BeeTL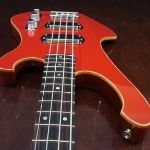 Joined: 14 Sep 2008
Posts: 1920
Location: Tampa Bay, FL
Posted: Fri Sep 03, 2010 9:09 pm

Post subject: Thinking of mixing up some custom-color nitro...

---

I'm doing my art guitars with Liquitex Glossies paint, and I have access to a local Trinity lacquer supplier who will mix custom colors.

I'm thinking of having a few gallons mixed to match certain base colors that I expect to use often like Red, Black, Yellow and maybe Aqua, Bright Blue, etc.

These will be used as a base coat under the art and/or on the back of the bodies.

I'm wondering if there might be any interest in having these kinds of colors available for sale by the quart to the spray-gun guys.

Just curious...