shattered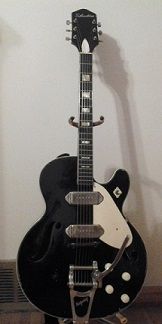 Joined: 28 Jun 2007
Posts: 3785
Location: Buffalo NY
Posted: Tue Jul 20, 2010 9:34 am

Post subject: It's about time...

---

My first project in like three years - the Noisy Cricket from Beavis Audio Research. All you need is a $40 gift card for Radio Shack and a dream.

I tested it through headphones, and also through a speaker tower from an old Fisher stereo I have which will probably serve as a temporary extension cabinet. I think it's all of 1/2 a watt, but it performas as advertised on a solid state amp forum - "loud enough to annoy others"; I'm just glad it worked the first time I fired it up. The next step is to build a small Marshall style head enclosure and a permanent extension cabinet for it.

Top of the board:


After testing it for a few days, I disconnected the pots and switches, and labelled the leads for easier reassembly as a head:


The pots, switches, and on/off LED mounted to a basswood control panel:


The proposed head enclosure, an old extension speaker cabinet I found when we bought our house:


I think my next project needs to involve a better camera. Maybe by then, Boston will have a new album out.
_________________
If it weren't for physics and law enforcement, I'd be unstoppable.