Ya - but anybody could have done better than Vox. The corners on the 30 look like crap. But there is definitely some shrinkage in that tolex - the gaps are growing. My 15 head looks much better. Maybe I should have recovered the 30...

As for joints - On speaker cabs I just go the easy route and do butt joints and then glue & screw 3/4 square reinforcements inside.
Like this: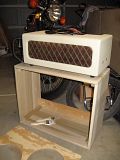 I did box joints on the Encore combo b/c that sucker is HEAVY and the squares would have gotten in the way of the chassis.
_________________


VERIDIAN




DYNAMICS




FRIENDSHIP. IT'S LIKE STEALING.